Susan Card of Cedar Falls will join us at the Waterloo Convention Center Monday and share her story of the "Reading with Jean" program she created in honor of her mother. This program is where volunteers read to residents in skilled care and with dementia at Western Home Communities.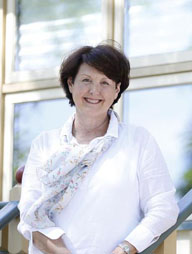 Bio from Susan Card...
I was born and raised in Cedar Falls, with strong family ties to Waterloo through the Jerald family, of Jerald Sulky Company. Jerald is my Mother's maiden name. Attended Price Lab school, and then NUHS leaving to pursue higher education at the University of Denver, in Denver Colorado. After earning BA, and continuing education in finance and Accounting, enjoyed a 30 year career in both public and private accounting. Career included fee only financial counseling with AMG National in Denver., and wrapped up as VP Finance and Investor Relations for Circle Capital Partners, a commercial real estate, private equity firm. After 35 years in the rat race, I made the decision to move back to my hometown, appreciating the proximity to my Mom, and extended family, the charming historic downtown and residential areas, and the beauty of the Cedar Valley, sense of community, and a more relaxed pace of life.
Since returning I've been involved with the Historic Preservation Commission, listing my 1895 home on the National Historic Register, applying for and receiving Historic Property - State Tax Credits, related to some extensive renovations, and also working with the City of Cedar Falls to list the very first residential District, of 3 homes related to the man who built the home I live in, Daniel Wild. (The Wild Historic District).
I currently serve on the boards of the WH Foundation Dev Council, as Vice President of the Cedar Falls Community Foundation, Preservation Iowa, as co-Treasurer, and am currently President of the Tuesday Club. Involved with PEO Chapter Kl, and the DAR, and volunteer with the Food Nook at Waterloo First United Methodist church. The Reading with Jean program is my main area of focus in my now semi-retired status.
I enjoy being outside walking or biking, learning pickle ball, and really love being back in the great State of Iowa. The sense of community we enjoy is unparalleled!